Nuts
Nuts and bolts are inextricably linked.
As many types of bolts as there are, there are also as many nuts.
Today, a large number of standards have been developed and laid down in DIN and ISO standards. Nuts can be cold pressed, hot pressed, forged, turned, milled, casted and punched. Our specialty lies in the development and production of nuts for that specific application where a standard is not sufficient. We can have hex nuts, lock nuts, flange nuts, pinched lock nuts, steer nuts, weld nuts, weld-on nuts, plate nuts, press-in nuts, inserts, flare nuts, rivet nuts, plate nuts and more made to your drawing.
The nuts can be made in all kinds of materials with different tensile strengths. Materials such as steel, stainless steel, plastic, brass, Inconel and much more. After this, the nuts can be provided with the surface treatment of your choice.
Each manufacturer has its specialty, one is fully equipped for automotive and the other for single-piece series, we match your needs with those of the manufacturer.
If you use fully automated welding robots, we have the experience to deliver with zero defects.
We are happy to look at the entire design with you, often making an adjustment in the connection easier, cheaper and with fewer errors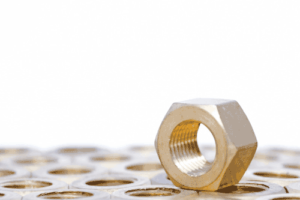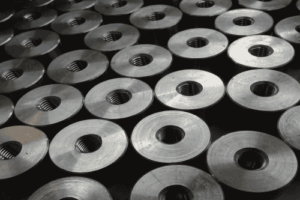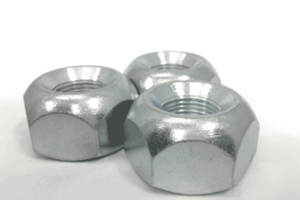 Techniques
There are several methods of making nuts: turning, milling, tapping, pressing, hot pressing and cold pressing.
Read more: Techniques
Quality
Every customer and manufacturer has its own quality requirements. We are happy to do the translation from customer to manufacturer when outsourcing the production of nuts and making nuts. We like to guarantee quality in the production process. A final check is a tool but not a solution.
We are familiar with various quality requirements from the automotive to cleanroom packaging for the semiconductor industry.
Read more: Quality
Materials
Case steel, heat resistant, high temperature, rust resistant steel, stainless steel, structural steel, duplex, super duplex, Nickel and Nickel alloys, non-ferrous metals, aluminum, steel, plastic, POM, PA, PA6, PA66, PE, PEEK, PE, HD- PE-LD, PVC, PP, ABS, Ms, brass, copper, Cu, sheet steel
Read more: overview materials
Heat treatments
After the nuts have been produced, they can undergo a further finishing operation to adjust the mechanical properties.
Surface treatments
The purpose of a surface treatment has several reasons, to clean, visually adjust gloss, matte, conductivity, reduce or increase resistance, improve service life, improve corrosion resistance.
Read more: Surface treatments