Clamps, Pipe clamps, brackets
Clamps. We have extensive experience in manufacturing and outsourcing clamps. We would be happy to work with you to determine which production technology and which factory are best suited for producing your clamps. Together with you we look at the geometry, the desired quality, the quantities, the delivery time and the desired price in order to come to a suitable solution. Inquire about the possibilities or send your request:
Tel: +31(0)40 2485155 | Mail: sales@custommadecomponents.nl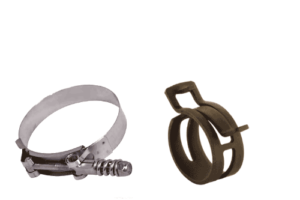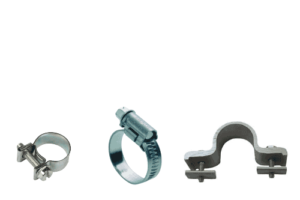 Techniques
There are different methods of making clamps: punching, punching, injection molding, but usually a combination of different techniques
Read more: Technieken
Quality
Every customer and manufacturer has its own quality requirements. The translation from customer to manufacturer when outsourcing the manufacture of clamps. We like to guarantee quality in the production of clamps in the production process. A final check is a tool but not a solution. We are familiar with various quality requirements from the automotive to cleanroom packaging for the semiconductor industry.
Read more: Kwaliteit
Materials
Insert steel, heat resistant, high temperature, rust resistant steel, stainless steel, structural steel, duplex, super duplex, Nickel and Nickel alloys, non-ferrous metals, aluminum, steel, plastic, POM, PA, PA6, PA66, PE, PEEK, PE, HD- PE-LD, PVC, PP, ABS, Ms, brass, copper, Cu, sheet steel
Read more: overzicht materialen
Heat treatments
After the brackets have been produced, they can undergo a finishing treatment, in order to adjust the mechanical properties. To releave tensions, soften or harden. Inform about the possibilities.
Surface treatments
The purpose of a surface treatment has several reasons, to clean, visually adjust gloss, matte, conductivity, reduce or increase resistance, improve service life, improve corrosion resistance.
Read more: Oppervlaktebehandelingen
Clamps and brackets
Clamps and brackets come in all shapes, materials and sizes. We can provide you with special mounting clamps and brackets. Brackets and clamps are made by a wide variety of manufacturing processes. Below are some examples.
Aluminum extrusion: brackets with which traffic signs are attached.
Pipe clamps: pipes in the car for the transport of liquids
Pipe clamps: guides for pipes in swimming pools, sprinkler installations
The clamps and brackets can be made of various materials, often referred to in the industry as W1, W2, W3, W4, W5 and various plastics. We would be happy to help you determine which clamps and brackets suit you best.
We work together with renowned names in this area, but we work brand independently.