Wire springs and leaf springs
Wire springs and leaf springs. We have extensive experience in manufacturing and outsourcing wire and leaf springs. We would be happy to discuss with you which production technique and which factory have the best history for producing your wire or leaf springs. Together with you we look at the desired quality, the numbers, the delivery time and the desired price in order to arrive at a suitable solution. Inquire about the possibilities of sending your request:
Tel: +31 (0) 40 2485155 | Mail: sales@custommadecomponents.nl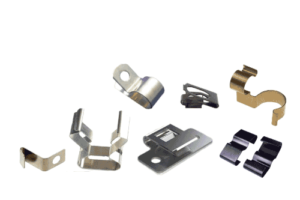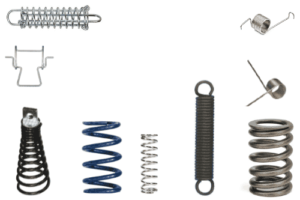 Techniques
There are different methods of making springs such as: punching, bending, laser cutting, wire bending, CNC bending.
Read more: Techniques
Quality
Every customer and spring factory has its own quality requirements. We are happy to translate from customer to manufacturer when outsourcing springs and making springs. We like to guarantee quality in the production process. A final check is a tool but not a solution.
We are familiar with various quality requirements from the automotive to the cleanroom packaging for the semiconductor industry.
Read more: Quality
Materials
Case steel, heat resistant, high temperature, rust resistant steel, stainless steel, structural steel, duplex, super duplex, Nickel and Nickel alloys, non-ferrous metals, aluminum, steel, plastic, POM, PA, PA6, PA66, PE, PEEK, PE, HD- PE-LD, PVC, PP, ABS, Ms, brass, copper, Cu, sheet steel
Read more: overview materials
Heat treatments
After springs have been punched or bent, they can undergo a finishing treatment, in order to adjust the mechanical properties.
Surface treatments
The purpose of a surface treatment has several reasons, to clean, visually adjust gloss, matte, conductivity, reduce or increase resistance, improve service life, improve corrosion resistance.
Read more: Surface treatments
General
Wire springs are available in various wire types and wire thicknesses. From 0.08 mm to extremely thick thermoformed springs. Many manufacturers have their own specialty, this has to do with the series size, the thickness of the material, the type of material. There are many different types of wire springs, we can distinguish between: extension springs, torsion springs, push springs, wire springs and die springs. Feathers can be supplied with different types of eyes and finishes.
The most common material is spring steel, galvanized spring steel and stainless steel spring steel. In addition, springs made of exotic materials such as Inconel are also available for special applications.
In addition to wire springs, there are also leaf springs. There are very few standard springs available with leaf springs. Leaf springs and cup springs are made according to drawing. Leaf springs are also mainly made of spring steel and stainless steel spring steel.